This post may contain affiliate links. When you purchase through links on my site, I may earn a commission at no cost to you. Learn more
Indoor seed starting can feel overwhelming but with this simple DIY seed starting rack you will be on your way to fantastic harvests. Purchasing an all in one grow system can be expensive. Building your own seed starting rack can be a cost effective way to start your seedlings indoors. I started out my indoor seed starting journey on a folding table with grow lights suspended above it. Your setup doesn't have to be fancy but it does need to provide your seedlings with the light that they need.
Below is the information for how I setup my own DIY seed starting rack. I provide all the links to the items I used below. This has been a great shelving unit for me to start my seeds on and was pretty easy to put together once I had all the pieces.
Seed Starting Rack
When I got to the point of growing more seedlings then a 4×8 table could hold I knew I needed to upgrade to a larger seed starting rack. I did not want to break the bank but also needed something sturdy enough to hold all my seedlings in their 10×20 seed trays. I decided to go with a 5 shelf metal rack from Home Depot. The rack is 48in wide x 72 inches tall x 18 inches deep and it is on casters so I could move it around if needed in my basement. I picked this size because it would have lots of room for the seed trays and it would allow me to get 4 foot lights to attach to the underside of the shelves.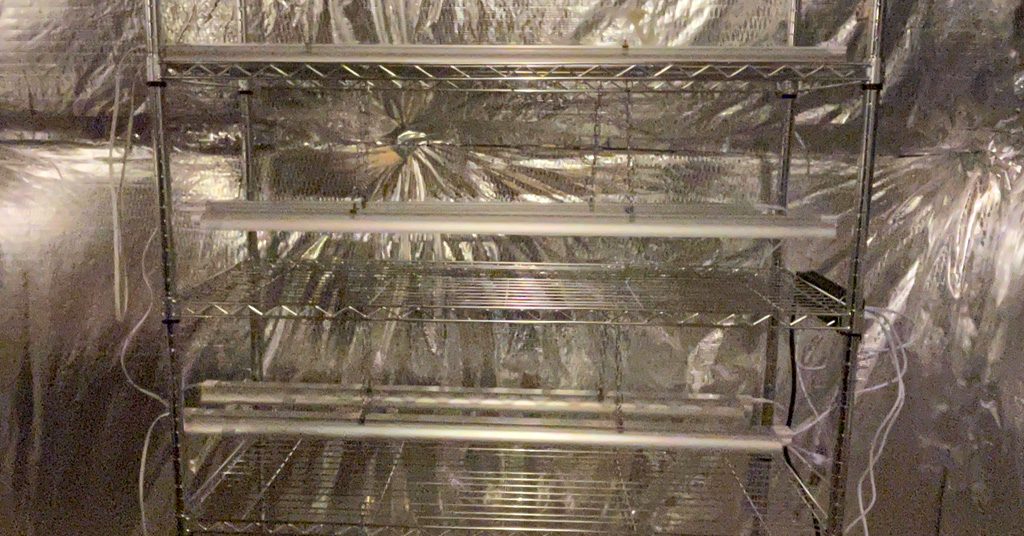 You do not need to go with such a large shelving unit. They sell versions with less shelves or smaller dimensions if you are working with a small space. I am luckily working in an unfinished basement so have some room to utilize a larger shelving unit. I also had my husband assist me with putting this shelving unit together. It is easier to have 2 people when installing the shelves onto the unit. You could probably get creative and put it together by yourself but it was definitely easier with 2 people.
LED Grow Lights
For my shelving unit I wanted to utilize as many of the shelves as possible. I purchased enough LED grow lights so that I can grow on 4 of my shelves. I did purchase 2 LED Grow lights per shelf for a total of 8 lights. Since my shelves are 4 feet long I purchased the 4 foot long LED Grow Lights.
The grow lights I decided to purchase are the Barrina LED Grow Lights. You can purchase them in white light or red light. I actually have a mixture of both. They can also be purchased in 2 ft and 4 ft lengths. I liked that you can link the lights together. I have 2 lights per shelf that are linked together and are controlled by 1 switch. These were easy to put together by just having to slide on the reflectors. I used some S hooks and chains to connect the lights to the shelves. Using bolt cutters I cut the chain to the length needed for the distance between the shelves. This allows me to raise and lower the lights as needed as the plants grow.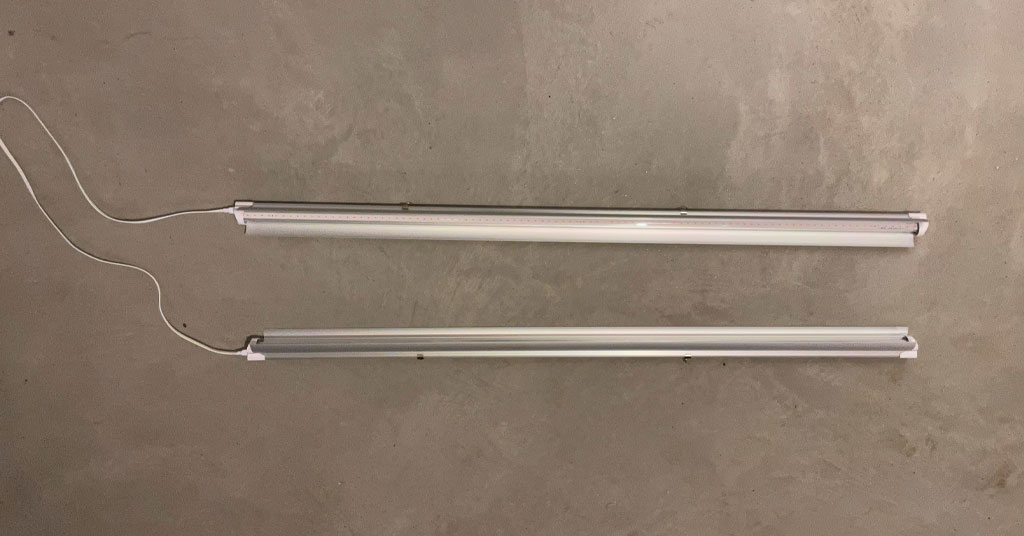 Timer/Smart Plug
The timer or smart plug is not really required but it certainly makes turning on and off your grow lights at the appropriate time much easier. I have my grow lights connected to a power strip which plugs into my wireless smart plug. Just set when you would like your lights to come on and when you want them to turn off and your smart plug will do all the work for you. I am the worst at remembering to turn my lights on in the morning so a timer or smart plug is essential for me.
Seed Starting Rack Complete
That is all you need to create a great seed starting rack to start your seeds on this year. If you need additional information on the 6 supplies needed to start seeds indoors please read our blog post. Starting your own plants from seed opens so many possibilities of varieties you can't find at the store. I love starting my seeds indoors, it is one of the things I look forward most to towards the end of winter. I hope you will give building your own DIY seed starting rack a try this year to give you lots of options for your seedlings.