This post may contain affiliate links. When you purchase through links on my site, I may earn a commission at no cost to you. Learn more
A lot of people are starting to garden this year, learning to provide food for themselves and their families. They are wondering how to build a raised garden bed. When I first started gardening I was doing mostly container gardening because that is the space that I had. I have now moved onto gardening in raised garden beds and in ground garden beds. The soil in my yard is mostly clay, so gardening in raised beds has allowed me to bring in better soil for my plants. I wanted raised garden beds that were easy to build and easy for me to plant and harvest in.
What Size Raised Bed to Build?
When deciding on what size raised bed to build you need to take a few things into consideration. How much space do you have to put raised beds in? What types of plants do you want to grow? Do the plants have shallow roots or are they root crops that want to grow deep into the soil? These are all questions I answered before deciding what size raised bed to build.
I decided to build 4 foot by 8 foot by 12 inch tall raised beds in different configurations. A 4 foot by 8 foot raised bed allows me to reach in 2 feet from either side of the bed to harvest. Now I am short so sometimes this reach is a little far when harvesting. So, depending on your reach you might want to consider making the bed 3 foot by 8 foot (but you won't be able to plant as much in that size). I decided the minimum height for my beds would be 12 inches, mostly because I want to be able to plant carrots and parsnips and they produce best in deep loose soil.
What Materials Should I use to Build a Raised Bed?
Deciding on what materials to use will depend on how long you would like the raised bed to last and costs. I have made my raised beds out of 2 inch x 12 inch x 8 foot Douglas Fir boards from Home Depot. Wood costs are currently really high so you might want to consider other alternatives. I have seen raised beds made out of wood, cinderblocks, bricks and metal. Really it comes down to costs and how you would like your garden to look. I didn't go with anything too fancy because I am more concerned about the food coming out of them then how they actually look. Eventually the wood of my garden beds will break down but I can replace the boards if I have to. Cinderblocks, bricks, and metal won't break down as easily as wood so may last longer in your garden.
How to Build a Raised Garden Bed
There are many ways to do this but I am going to share the simple process that I used to build my raised garden beds.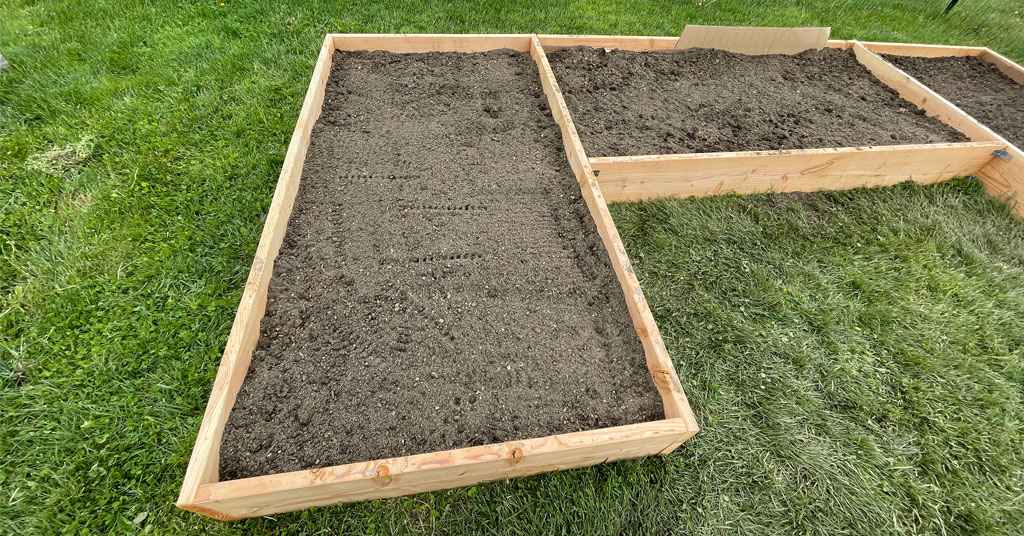 How to Build a Raised Garden Bed
Step by step instructions on how to build a raised garden bed.
Materials
2

2 in x 12 in x 8 ft Douglas Fir Boards

2

2 in x 12 in x 4 ft Douglas Fir Boards

12

3 inch exterior wood screws

Cardboard

Cover bottom of 4×8 bed
Instructions
We ordered two 2 inch x 12 inch x 12 foot boards so we needed to cut them down into the required sizes to build the raised bed. I used a circular saw to cut the 12 foot boards into 4 foot and 8 foot pieces. You can skip this step by having a person at Home Depot or Lowes cut the boards down to size for you.

I found building the raised bed close to its final location is the best since the raised bed is very heavy and bulky to carry once built. Take 1 four foot board and 1 eight foot board and put them together in an L shape. We put the 4 foot board on the inside edge of the 8 foot board. Using your screw gun and exterior wood screws, screw 3 screws into the 8 foot board edge so they connect the 2 wood pieces together. Space the screws so there is 1 at the top, 1 in the middle, and 1 at the bottom. Try to make sure there is as little of a gap as possible between the 2 pieces of wood.

Next add the second 8 foot board to the other end of the 4 foot board you were using following the same method as above. You want to screw in the longer sections first because it is easier to bend the longer boards if for some reason your wood is a little warped when screwing them together.

Insert the last 4 foot board in between the ends of the 2 8 foot boards on the other end. Using 3 screws on each end attach the 4 foot board to the 2 8 foot boards. Congratulations you have built a raised bed!

Move the raised bed into its final location.

I like to line the bottom of my raised beds with cardboard. This will help to smother any weeds or grass that may be in the bottom of the raised bed.

Fill the raised bed with the best quality soil you can buy. Don't skimp on this piece because your soil is the most important part of your garden. Better soil will help you grow healthy plants.
Notes
There are many ways to build a raised bed.  I just found this method the easiest and my raised beds have lasted years in my garden.   
Now that you have the skills to build one 4 foot by 8 foot by 12 inch raised garden bed you can use those skills to put them together into different configurations that can be used in your garden. I love creating U shaped garden beds and using them at the end of the different rows. Below is an image of my current bed layout.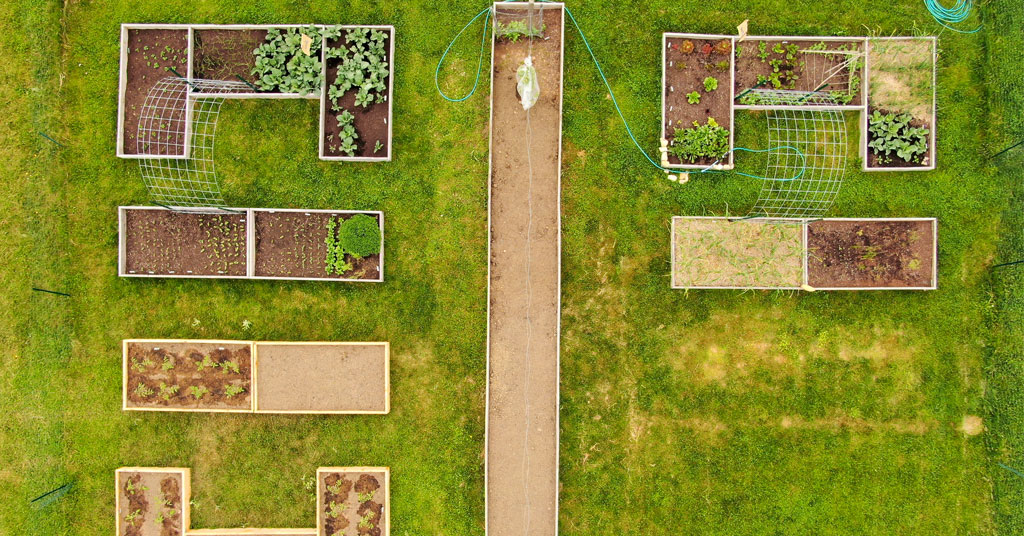 I love to build things for my garden. Building raised garden beds was a simple way for me to get started building things for my garden. Interested in building other items that can be used in your garden? Take a look at some of my other posts for building items for your garden: How to build a cattle panel arch trellis and How to build a teepee trellis. I hope you continue to build your garden of your dreams. If you are interested in my tips and tricks in the garden please join my mailing list to get the most up to date information about what I have going on in the garden.