This post may contain affiliate links. When you purchase through links on my site, I may earn a commission at no cost to you. Learn more
For the last several years I have been eyeing people building cattle panel trellis arches. Watching them grow their beans, cucumbers, and squash over their walkways. Growing vertically and saving precious garden space. I had trellis envy! I was thinking these arches had to be expensive and hard to put together. I am here to admit my assumptions were completely wrong about how to build a cattle panel trellis arch. My husband and I put them together quickly and now I can grow my vegetables vertically this year. I am so very excited about this growing season.
Easy to Build
Building a cattle panel trellis arch is surprisingly easy but I do recommend having 2 people because it is bulky to move around and hold by yourself. A cattle panel is 16 ft long and 50 inches wide. So a little wider than a 4'x8′ raised garden bed. I love that it is 16 feet long because you can actually get an arch that you are able to walk under depending on how far apart you want the base of the trellis. I have attempted arch trellises before but none were tall enough to walk under. I am very excited to get to harvesting and not have to bend down as far to pick my vegetables. Now I am only 5'1" so I actually may need a step ladder depending on how well things grow on the trellis.
Acquiring the Cattle Panel
A 16 foot cattle panel is not the easiest thing to get home. I have seen people roll them up and fit them in the back of a minivan or pickup truck. I ordered quite a few for different garden projects around my house that I actually had them delivered. That was much easier than attempting to get them in my car. My husband and I built 2 cattle panel trellises in around an hour. Would have probably been quicker if we were not laughing at each other so much. I wanted to prove that this could be easily built by someone like me without a lot of muscle or height. It took a little longer then expected when I was doing it but I think it could be accomplished easily if you fall into the same category as me.
How to Build a Cattle Panel Trellis Arch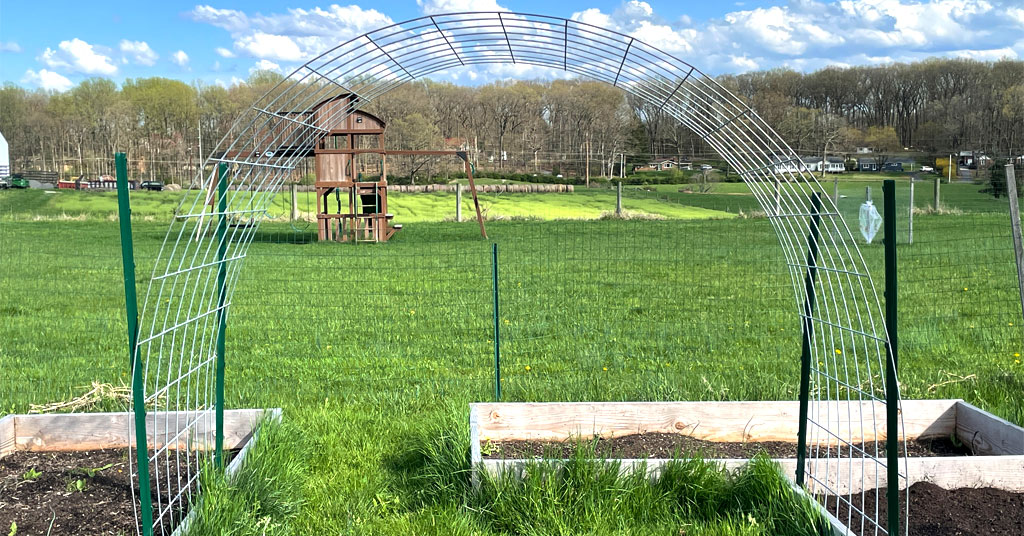 How to Build a Cattle Panel Trellis Arch
Step by step instructions on how to build a cattle panel trellis arch. This trellis can be used for vertically growing vegetables and flowers.
Materials
1

16ft x 50in Cattle Pannel
Instructions
Pick a location in your garden where you want your arch. The space between the bottom of my arch is a little over 7 ft. If you want a taller arch bring the space between the bottom of the arch closer together. If you want a shorter arch separate the bottom of the arch farther apart.

Lay cattle panel on flat surface near where you are going to install it.

In each of the corners of the 50 inch ends of the cattle panel thread the 4 U-Posts into the cattle panel. How I did this is to insert the end of the U-Post into the first hole in the cattle panel. The go up 3 holes in the cattle panel and insert it through that hole. Slide the cattle panel onto the U-Post

Holding both short ends of the cattle panel (This is where 2 people are really important) move the cattle panel to where you are going to install it.

Place one end of the cattle panel (with the U-posts) into the position where you want to hammer it into the ground. Make sure the U-posts will stick up on the outside of the archway and not on the inside of the arch way. If it is incorrect flip over the cattle panel.

Have one person hold the cattle panel in place while the other person uses the mallet or fence post driver to hammer the u-posts into the ground.

Set the other side of the archway into it location and again have one person hold it in place while the other person uses the mallet or fence post driver to hammer the u-posts into the ground

Use zip ties if desired to anchor the cattle panel securely to the u-posts
Notes
This build is much easier if you have at least 2 people.  To be able to arch the trellis and hold the posts in place while hammering them in really needs 2 people. 
Growing on a Cattle Panel Trellis Arch
This year I planning on growing a few different things on the cattle panel trellis. Since this is my first year growing on this type of trellis I am not completely positive how well everything will do.
Here is what I plan on growing:
I am also considering trying some of my squash and melons to see how those might do as well. If it is a heavier item like a butternut squash you may need to create it a sling so it doesn't break off its stem before it is ripe. I have heard some people make slings out of pantyhose so I will have to see what works in my garden.
Are you growing on a cattle panel trellis this year? I would love to hear about some of the crops that do really well growing up a cattle panel. I can't wait to continue to experiment with what does best on my new trellises this year. Need some additional trellis ideas? Check out my post on How to Build a Teepee Trellis.