This post may contain affiliate links. When you purchase through links on my site, I may earn a commission at no cost to you. Learn more
Water bath canning banana peppers is a really easy recipe to accomplish when home canning. My husband loves the taste of banana peppers. He loves to put them on sandwiches, pizza and anything else that could use an extra kick. This year he had me grow 6 banana pepper plants in our garden. The peppers really flourished because we had a very warm summer. I was soon up to my ears in banana peppers and wanted a way to preserve them for my husband to use throughout the year.
Ball Water Bath Canning Recipe
I headed for my trusty Ball Canning Books to see if I could find a recipe that would help me with preserving the banana peppers for my husband. I found a recipe that would be perfect in the book Ball Canning Back to Basics on Page 174. The recipe is called "Hot Peppers" and it makes about 5 pint jars of pickled peppers. Ball provides this recipe on its website called "Hot Peppers"
Process for Water Bath Canning Banana Peppers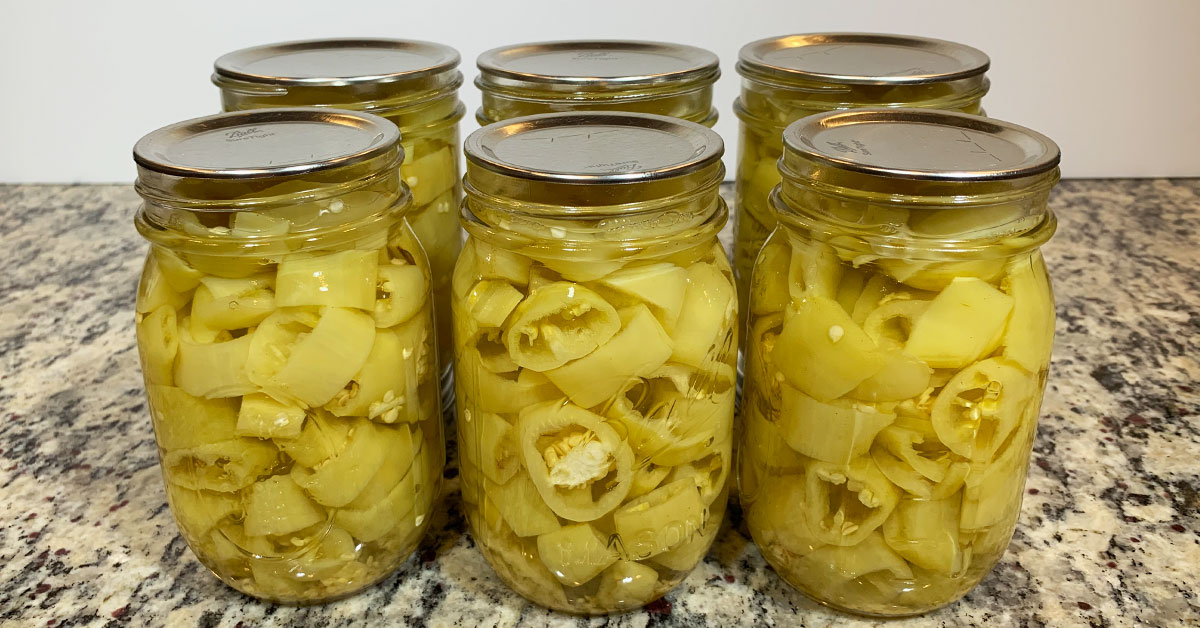 Water Bath Canning Banana Peppers
Water bath canning banana peppers. How to use Ball Canning "Back to Basics" recipe "Hot Peppers" to can delicious banana peppers.
Ingredients
3

lbs

Banana Peppers

1

quart

White Vinegar (plus additional vinegar below)

5% acidity

2

cups

White Vinegar (plus additional vinegar above)

5% acidity

2

cups

Water

3

cloves

Garlic

crushed

1/8

tsp

Ball Pickle Crisp Granules

per jar
Instructions
Clean Jars and Lids: Clean jars and lids with warm soapy water. Ensure the jars do not have any chips or bubbles in the glass.

Prepare Water Bath Canner: Put your water bath canner on your stove. Add your canning rack into your water bath canner. Add your pint jars to the water bath canner. They will warm as you heat up the water. Add enough water to cover jars with at least 2-3 inches of water. Bring to a boil and allow the jars to boil for 10 minutes.

Cleaning and Cutting Peppers: While the water is coming to a boil clean your peppers under cold water. Cut off the stem and blossom ends from your peppers. Cut your peppers into 1/2 inch pieces and place into a bowl.

Creating Brine: Combine vinegar, water, and garlic in a large pot. Bring the mixture to a boil. Once mixture is at a boil reduce heat to a simmer. Simmer the brine for 5 minutes. Remove and discard the garlic. I have found when running this recipe a few times that I usually need additional brine then what is called for in the recipe. Keep the ratio of vinegar and water if you are going to add additional liquid to the brine.

1 quart White Vinegar (plus additional vinegar below),

2 cups Water,

3 cloves Garlic,

2 cups White Vinegar (plus additional vinegar above)

Remove your jars from the water bath canner one at a time using your jar lifter. Dump water out of jar into your water bath canner. Tightly pack peppers into the hot jar, leaving 1/2 inch headspace. Make sure they are tightly packed in your jar. Ladle the hot liquid over the peppers, leaving 1/2 inch headspace. Add 1/8 teaspoon Ball Pickle Crisp Granules to jar.

1/8 tsp Ball Pickle Crisp Granules

De-bubble Your Peppers: Using your de-bubbler make sure to remove all air bubbles. Since the pepper pieces are hollow they will try to hold a lot of air in them. Make sure to get as much air out as possible. Add some more hot brine if the level goes down below 1/2 inch headspace.

Wipe the rim of the jar to ensure good seal is made with the lid. Center the lid on the jar and add the band to fingertip tight. Put the jar back into the water bath canner.

Repeat steps for Remaining Jars: Repeat steps 5-7 for the remaining peppers, until the jars are filled.

Process Jars in Water bath Canner: Lower the water bath canner rack into the boiling water. Ensure your jars are covered by at least 2 inches of water. If your water is not boiling start your processing time when the water is boiling. Process the jars for 10 minutes. Make sure to adjust your time for altitude. Set a timer, it makes it much easier to make sure you process for the correct time. When your timer goes off turn off the heat and remove the canner lid. Leave the jars in the water for 5 minutes.

Remove Jars and Cool: Lift your canning rack out of the water. Using your jar lifer carefully move your jars onto a wire rack or kitchen towel to allow to cool. When moving your jars try not to tilt them to the side as this could effect the seal of your jars. Allow your jars to cool for 12-24 hours before handling.

Storage: Once cool, remove the canning rings from the jars. Wash your jars off to ensure there is no food residue on the outside of the jar from processing. Label your jar with the name of the recipe and date. This will help you remember what recipe you used to can and the date will allow you to use the oldest canned goods first.
Notes
This recipe is from Ball Canning Back To Basics book on page 174
This recipe is also found on Ball's website under "Hot Peppers" 
Enjoy your peppers!
Now you have delicious shelf stable peppers that can be enjoyed all year long. We love to put them on sandwiches but I am sure they can be used in many different dishes. You could use this recipe with many different types of peppers. I had an abundance of banana peppers since they are my husbands favorite. The hotter the pepper you use the more of a spicy kick you will get out of them. Try it with Jalapeno peppers, Cubanelle peppers, Anaheim peppers or even a mixture of peppers for different tastes. Let me know in the comments how you plan on using your peppers this season.