This post may contain affiliate links. When you purchase through links on my site, I may earn a commission at no cost to you. Learn more
Water Bath Canning Apple Butter? I use this very simple, safety tested recipe from Ball Canning. Apple butter is cooked down, caramelized apple sauce. I love to eat apple butter on toast, it is delicious. We have been picking apples at our local orchard while I wait for my apple trees to mature. I usually pick a large amount of apples since I will be canning many types of apple products to have throughout the year. Typically I am making large batches of apple sauce. If I am already processing a lot of apples I also enjoy making apple butter because it is so simple to make.
Ball Recipe for Apple Butter
I always turn to my Ball Canning books first when looking for recipes to try. I started here when looking for water bath canning apple butter. Ball Canning ensures all their recipes are tested and meet the most up to date safety standards for home canning. This recipe can be found in the Ball Canning Back To Basics Book – A foolproof guide to canning jams, jellies, pickles and more. The recipe is found on page 129 and is titled Apple Butter. According to the recipe it makes about 6 (1/2 pint) jars or 3 (1 pint) jars of apple butter. I typically process them in the 1/2 pint jars because my family doesn't eat as much apple butter so the smaller serving size is perfect for us.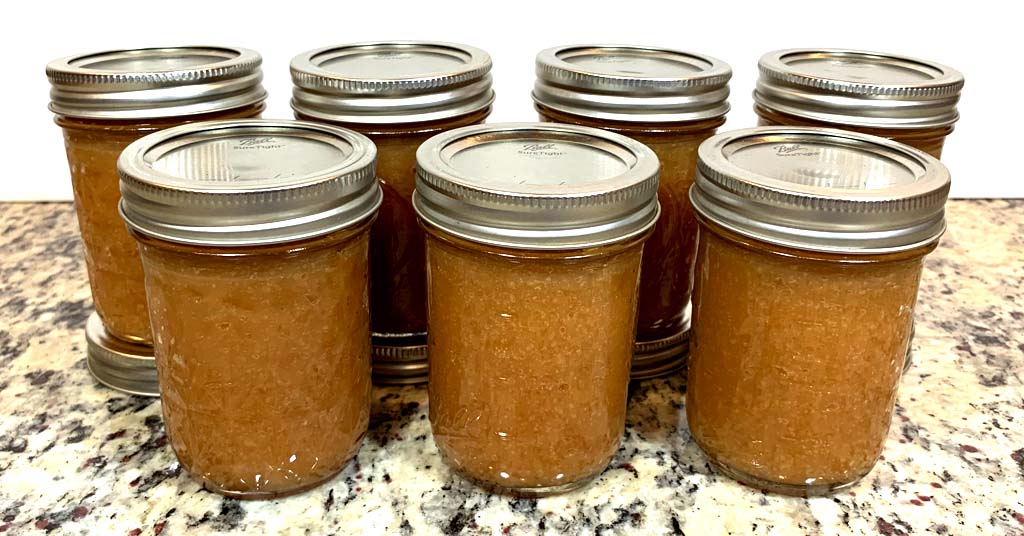 Water Bath Canning Apple Butter
Water bath canning apple butter. Using four ingredients and Ball Canning's water bath canning recipe to make apple butter.
Ingredients
4

pounds

Apples, rinsed and peeled

(about 12 to 16 medium apples)

3/4

cup

Apple Cider

1-2

cups

Brown Sugar

Start with 1 cup of brown sugar. If desired, gradually add more to taste up to 2 cups

Ground Cinnamon

To Taste
Instructions
Clean jars and lids with warm soapy water. Ensure the jars do not have any chips or bubbles in the glass.

Wash your apples under cold water. Core, peel, and chop your apples. I like to use my Apple Peeler, Slicer, Corer. It makes the process so fast and easy. You can also use a vegetable peeler, knife and cutting board to accomplish the task. According to Ball Canning in this recipe you can leave the skins on to retain more color and taste. I did peel mine when making this recipe.

Add your apples to a stainless-steel pot or enameled Dutch oven. Bring the apples to a boil over high heat.

Reduce heat, cover, and simmer your apples until they are very soft.

Once soft remove from heat and allow the apples to cool slightly. Using your food mill or food processor, or blender process the apples in batches until smooth (smooth apple sauce texture).

Return the apple puree to your stainless-steel pot or enameled Dutch oven. Stir in apple cider, 1 cup of the brown sugar, and the ground cinnamon. Taste and gradually adjust the brown sugar to taste up to 2 cups of sugar. Add more ground cinnamon if needed.

Cook on a gentile boil over medium heat, stirring frequently, until the apple mixture thickens and holds its shape. You can test this by scooping a small spoon full onto a plate. If there is no separation between liquid and the apples then you have reduced it enough to be apple butter.

While the apple mixture is cooking down. Put your water bath canner on your stove. Add your canning rack into your water bath canner. Add your 1/2 pint or pint jars to the water bath canner. They will warm as you heat up the water. Add enough water to cover jars with at least 2-3 inches of water. Bring to a boil and allow the jars to boil for 10 minutes.

Remove your jars from the water bath canner one at a time using your jar lifter. Dump water out of jar into your water bath canner to ensure there is still 2-3 inches of water above your jars. Ladle the hot mixture into the hot jar. Leave 1/2 inch headspace (use your headspace measurer to verify the correct amount).

Using your de-bubbler make sure to remove all air bubbles. Apple butter has a thinker consistency so air bubbles maybe hiding so ensure you do this a few times to remove as many air bubbles as possible. Adjust headspace, if necessary, by adding additional hot apple butter.

Wipe the rim of the jar to ensure good seal is made with the lid. Center the lid on the jar and add the band to fingertip tight. Put the jar back into the water bath canner using your jar lifter.

Repeat steps 9-11 for the remaining apple butter, until the jars are filled.

Lower the water bath canner rack into the boiling water. Ensure your jars are covered by at least 2 inches of water. If your water is not boiling start your processing time when the water is boiling. Process 1/2 pint and pint jars for 10 minutes. Make sure to adjust your time for altitude. Set a timer, it makes it much easier to make sure you process for the correct time. When your timer goes off turn off the heat and remove the canner lid. Leave the jars in the water for 5 minutes.

Lift your canning rack out of the water. Using your jar lifer carefully move the jars onto a wire rack or kitchen towel to allow to cool. When moving the jars try not to tilt them to the side as this could effect the seal of the jars. Allow your jars to cool for 12-24 hours before handling.

Once cool, remove the canning rings from the jars. Wash your jars off to ensure there is no food residue on the outside of the jar from processing. Label your jar with the name of the recipe and date. This will help you remember what recipe you used to can and the date will allow you to use the oldest canned goods first.
Homemade Apple Butter
There is nothing better than opening a homemade item to serve to your family. I love this recipe because it is so simple to make. I made it with the ingredients above but in the Ball Canning Back To Basics Book – A foolproof guide to canning jams, jellies, pickles and more there is the option to switch out the apple cider, brown sugar and cinnamon for other ingredients. The different liquid, sweetener, and seasoning options are on page 126. That way if your family doesn't like something or have a food allergy the recipe can be adjusted.
I hope you enjoy creating apple butter that you can can for your family. That way you can have a taste of fall all year long. Looking for some additional water bath canning recipes for apples? Then check out these other amazing canning recipes:
Water Bath Canning Apple Jelly
Happy Canning!