This post may contain affiliate links. When you purchase through links on my site, I may earn a commission at no cost to you. Learn more
One of my favorite ways to use my paste tomatoes is making homemade roasted tomato paste. Tomato paste is a thick and concentrated sauce made from cooked and pureed tomatoes. It's a versatile ingredient that can be used in a variety of recipes, from stews and soups to pasta sauces and pizza toppings.
Have you ever considered making your own tomato paste? Trust me, the benefits are worth it! Not only does homemade tomato paste have a richer flavor and deeper color than store-bought versions, but it's also a great way to use up any extra tomatoes you may have on hand. Plus, making your own tomato paste means you know exactly what's going into it – no added preservatives or artificial ingredients.
I'll take you through each step of the process, and before you know it, you'll have a delicious homemade tomato paste that you can use in all your favorite recipes.
Best Variety of Tomato for Tomato Paste
When it comes to making tomato paste, not all tomatoes are created equal. The best type of tomato to use for tomato paste is one that is meaty and has low water content, as this will result in a thicker and more concentrated paste.
There are a few different varieties of tomatoes that work well for making tomato paste, including Roma tomatoes, Plum tomatoes, San Marzano tomatoes, and Amish Paste tomatoes. These types of tomatoes are often referred to as "paste" or "sauce" tomatoes and are known for their firm texture and sweet, rich flavor.
If you're not sure which type of tomato to use, we recommend trying Roma tomatoes. They're easy to find in most grocery stores and are a great all-purpose tomato. However, if you're looking to take your tomato paste to the next level, it's worth seeking out San Marzano or Amish Paste tomatoes. These varieties have a higher sugar content than Roma tomatoes, which makes for a more flavorful and sweeter tomato paste.
No matter which type of tomato you choose, make sure they are ripe but not overripe. Overripe tomatoes will have too much water content, which can make your tomato paste too thin.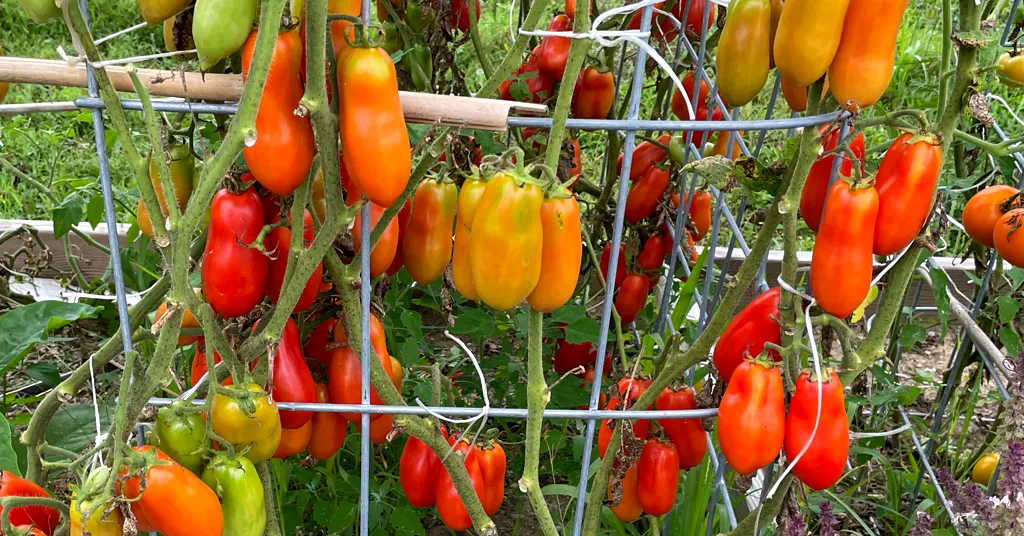 Why Roasting Tomato Paste is Important
One of the most important steps in making homemade tomato paste is roasting the tomatoes. While it may seem like an extra step, roasting the tomatoes is crucial for achieving a rich, concentrated flavor in your tomato paste.
When you roast tomatoes, you're essentially caramelizing the natural sugars in the tomatoes, which intensifies their flavor. Roasting also removes much of the water content in the tomatoes, which is essential for creating a thick and concentrated paste. Without this step, your tomato paste may end up thin and watery, which is not ideal.
Roasted Tomato Paste Recipe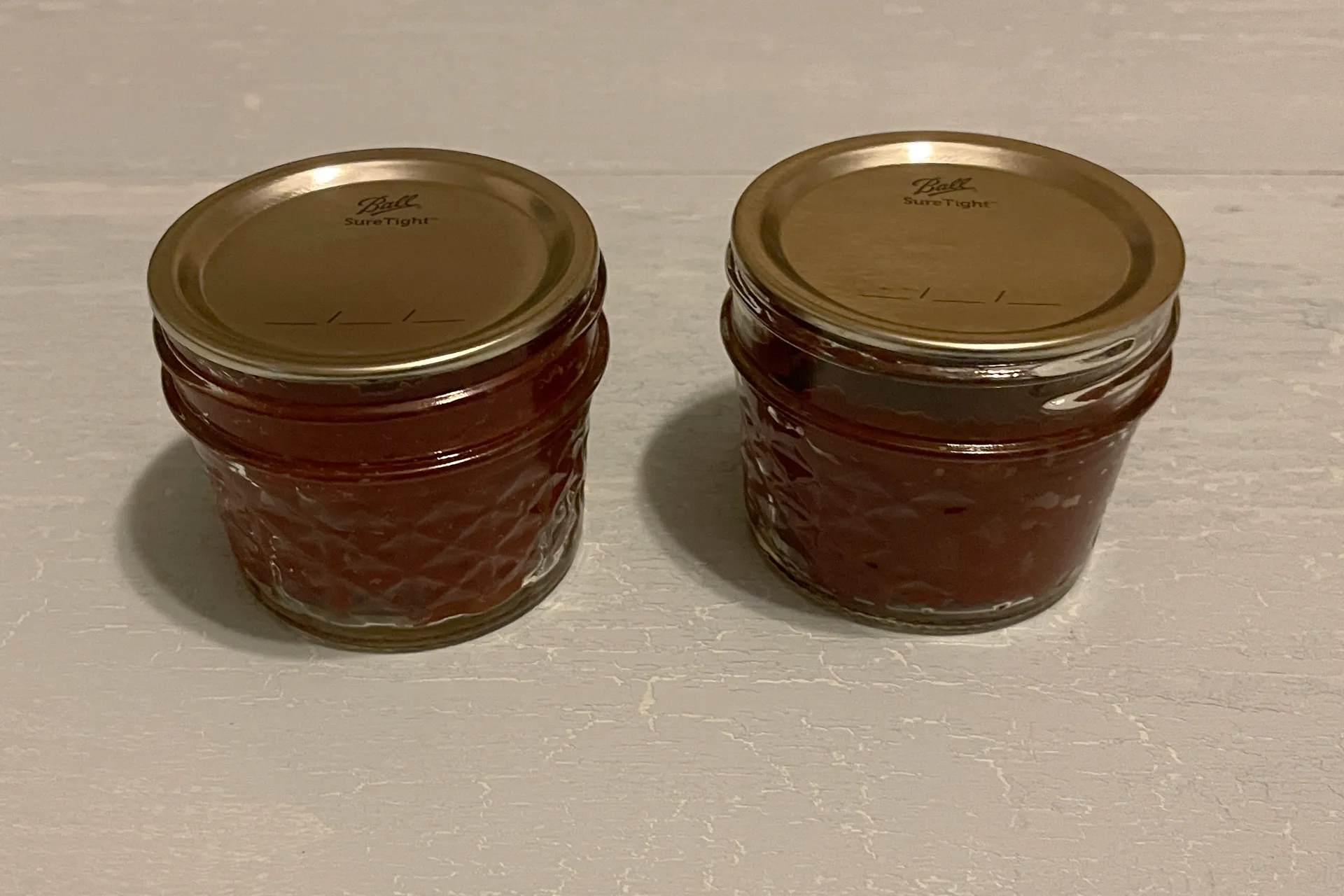 Ingredients
12

lbs

Paste Tomatoes

Stems removed and halved crosswise

1

TBSP

salt

Optional

1

tsp

Citric Acid

or 1/4 cup bottled lemon juice
Instructions
Preheat oven to 350°F.

Gently remove seeds from tomato halves.

Cut tomato halves in half vertically.

Place tomato quarters in a single layer on large rimmed baking sheets.

Sprinkle tomato quarters evenly with salt, if desired.

Bake at 350°F for 1 1/2 hours. Check tomatoes after first 40 minutes and every 20 minutes after to ensure they are no burning.

Remove from oven and cool slightly.

Process tomatoes, in batches, in a food processor until smooth.

Pour pureed tomatoes into a large glass bowl. Stir in citric acid or lemon juice. Adjust salt to taste if using.

Return tomato puree to baking sheets. Bake at 350°F until tomato mixture is deep red in color and very thick. Stir every 20 to 30 minutes. This step can take anywhere from 2 1/2 hours to 3 1/2 hours, depending on the type of tomatoes used.

Clean jars and lids with warm soapy water. Ensure the jars do not have any chips or bubbles in the glass.

Put your water bath canner on your stove. Add your canning rack into your water bath canner. Add your half pint jars to the water bath canner. They will warm as you heat up the water. Add enough water to cover jars with at least 2-3 inches of water. Bring to a low boil and allow the jars to boil for 10 minutes.

Remove your jars from the water bath canner one at a time using your jar lifter. Dump water out of jar into your water bath canner to ensure there is still 2-3 inches of water above your jars.

Spoon hot tomato paste into a hot jar, leaving 1/4 inch headspace. Remove air bubbles with a de-bubbler and adjust headspace as needed by adding more tomato paste.

Wipe rim to ensure good seal is made with the lid. Center lid on jar and screw the band down to finger tip tight.

Place jar in canner using your jar lifter. Repeat steps 13-15 until all tomato paste is used. Make sure the jars are completely covered by 2-3 inches of water.

If your water is not boiling start your processing time when the water is boiling. Process half pint jars for 40 minutes (make sure to adjust for your altitude). Set a timer, it makes it much easier to make sure you process for the correct time. When your timer goes off turn off the heat and remove the canner lid. Leave the jars in the water for 5 minutes.

Lift your canning rack out of the water. Using your jar lifer carefully move the jars onto a wire rack or kitchen towel to allow to cool. When moving the jars try not to tilt them to the side as this could effect the seal of the jars. Allow your jars to cool for 12-24 hours before handling.

Once cool, remove the canning rings from the jars. Wash your jars off to ensure there is no food residue on the outside of the jar from processing. Label your jar with the name of the recipe and date. This will help you remember what recipe you used to can and the date will allow you to use the oldest canned goods first.
Homemade Roasted Tomato Paste
Making your own roasted tomato paste is a fun and rewarding kitchen project that is sure to elevate your cooking game. By using the right type of tomato and roasting them to perfection, you can create a rich and concentrated tomato paste that's perfect for a variety of recipes.
Not only is homemade tomato paste more flavorful than store-bought versions, but it's also a great way to use up any extra tomatoes you may have on hand. Plus, making your own tomato paste allows you to control what ingredients go into it, ensuring a healthier and more natural product.
So, what are you waiting for? Give homemade roasted tomato paste a try! We'd love to hear about your experience in the comments below. And, if you're interested in other tomato preservation recipes, be sure to check out our other Water Bath Canning articles on the site: