This post may contain affiliate links. When you purchase through links on my site, I may earn a commission at no cost to you. Learn more
Water bath canning Zesty Salsa is an easy way to use up the end of season bounty from your garden. I had tomatoes, green peppers, garlic, onions, and banana peppers from my garden that I needed to do something with. Luckily these are the main ingredients called for water bath canning Ball's Zesty Salsa recipe. We are not fans of salsa that is too spicy but with this recipe you can add hot pepper sauce to your liking.
Ball Recipe for Water Bath Canning Zesty Salsa
I found the Zesty Salsa recipe in my Ball Complete Book of Home Preserving, on page 207. Also, Ball provides this recipe on their website called Zesty Salsa. This recipe will yields about 6 pint jars or 12 half pint jars and they go right into your water bath canner. I am not going to lie to you, this recipe takes a lot of chopping. I have found a secret that I use to make the chopping a little bit easier. Using the Meuller Austria Onion Chopper Pro, it makes cutting up all the vegetables evenly so much easier and quicker. It is really one of my favorite kitchen gadgets because it takes me forever to chop things.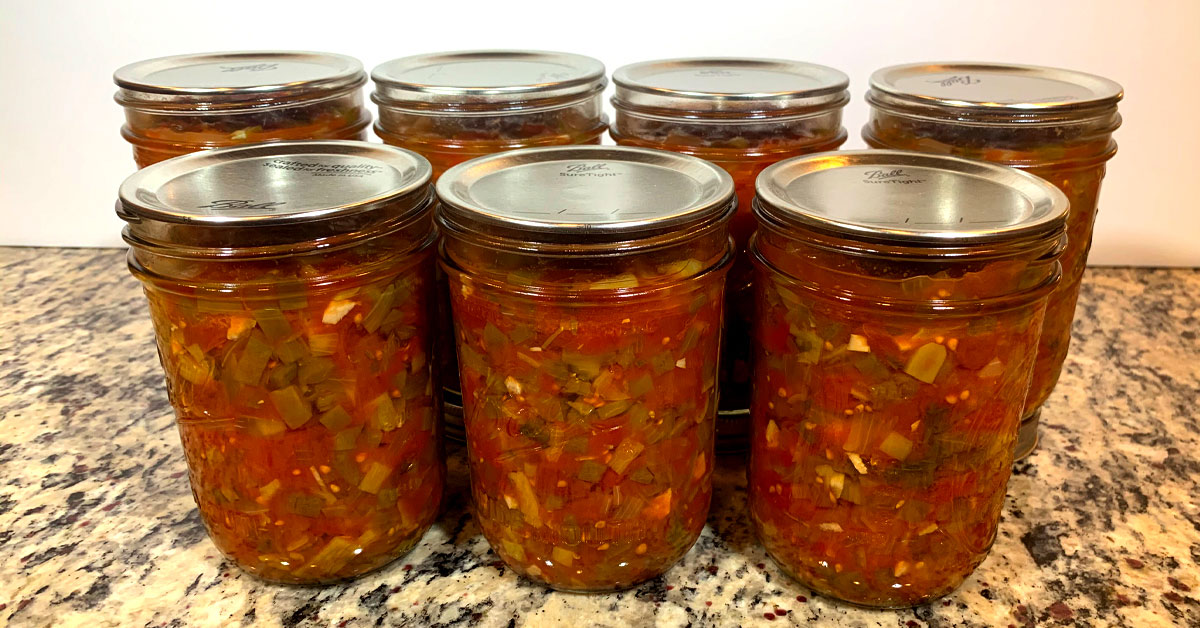 Water Bath Canning Zesty Salsa
Ingredients
10

cups

Cored, Peeled, Chopped Tomatoes

5

cups

Green bell peppers

Seeded, Chopped

5

cups

Onions

Chopped

2 1/2

cups

Chili Peppers, such as hot banana peppers (yellow wax), Hungarian wax, serrano, or jalapeno

Seeded, Chopped

1 1/4

cups

Cider Vinegar

3

cloves

Garlic

Finely Chopped

2

tbsp

Cilantro

Finely Chopped

1

tbsp

Salt

1

tsp

Hot Pepper Sauce

(Optional)
Instructions
Clean jars and lids with warm soapy water. Ensure the jars do not have any chips or bubbles in the glass.

Core, peel and chop tomatoes: To peel the tomatoes we are going to blanch them. Boil a large pot of water. Once the water is boiling get a large bowl of ice and fill with water (Ice Bath) place next to your stove. Working in batches drop the tomatoes into the boiling water, this will cause their skin to split. Using the slotted spoon remove the tomatoes from the boiling water and immediately put them in the ice bath. This will cause the tomatoes to stop cooking. Once you have completed this process with all your tomatoes their skin should easily be removed. Remove the cores of your tomatoes with a knife. Using your knife and cutting board chop your tomatoes and place them in a bowl.

Seed and chop peppers: Next, Using your knife and cutting board remove the stems from your green peppers and your chili peppers. Remove the seeds from your peppers (If you don't mind heat, you can leave the seeds and veins in the chili peppers). Using your knife and cutting board or your Meuller Austria Onion Chopper Pro chop the peppers into small pieces and place into a bowl

Chop onions, garlic, and cilantro: Using your knife and cutting board or your Meuller Austria Onion Chopper Pro chop the onions into small pieces and place into a bowl. Using your knife and cutting board finely chop your garlic cloves and your cilantro and place into a bowl.

Prepare Water Bath Canner: Put your water bath canner on your stove. Add your canning rack into your water bath canner. Add your pint jars or half pint jars to the water bath canner. They will warm as you heat up the water. Add enough water to cover jars with at least 2-3 inches of water. Bring to a boil and allow the jars to boil for 10 minutes.

Combine ingredients and cook: In the large stainless steel pot, combine all ingredients (tomatoes, green peppers, onions, chili peppers, vinegar, garlic, cilantro, salt, and hot pepper sauce (optional)). Bring ingredients to a boil over medium-high heat, stirring constantly. Reduce heat and boil gently, stirring frequently, until slightly thickened (about 10 minutes)

Packing Salsa into jars: Remove your jars from the water bath canner one at a time using your jar lifter. Dump water out of jar into your water bath canner. Ladle hot salsa into hot jars, leaving 1/2 inch headspace (use your headspace measurer to verify the correct amount)

De-bubble Your Zesty Salsa: Using your de-bubbler make sure to remove all air bubbles. Adjust headspace, if necessary, by adding additional hot salsa.

Sealing Jar: Wipe the rim of the jar to ensure good seal is made with the lid. Center the lid on the jar and add the band to fingertip tight. Put the jar back into the water bath canner.

Repeat steps for Remaining Jars: Repeat steps 7-9 for the remaining salsa, until the jars are filled.

Process Jars in Water Bath Canner: Lower the water bath canner rack into the boiling water. Ensure your jars are covered by at least 2 inches of water. If your water is not boiling start your processing time when the water is boiling. Process both pint jars or half pint jars for 15 minutes. Make sure to adjust your time for altitude. Set a timer, it makes it much easier to make sure you process for the correct time. When your timer goes off turn off the heat and remove the canner lid. Leave the jars in the water for 5 minutes.

Remove Jars and Cool: Lift your canning rack out of the water. Using your jar lifer carefully move your jars onto a wire rack or kitchen towel to allow to cool. When moving your jars try not to tilt them to the side as this could effect the seal of your jars. Allow your jars to cool for 12-24 hours before handling.

Once cool, remove the canning rings from the jars. Wash your jars off to ensure there is no food residue on the outside of the jar from processing. Label your jar with the name of the recipe and date. This will help you remember what recipe you used to can and the date will allow you to use the oldest canned goods first.
Enjoy your Zesty Salsa!
I hope you arm is not sore from all that chopping and that you get to really enjoy your Zesty Salsa. Let the jars sit for a few weeks to let the flavors marinate together. Sometimes my husband finds it difficult to wait and I find him popping a jar open the next day. This is a great salsa to have on hand for gatherings and all you have to do is get a bowl and empty the jar into it. Provide some tortilla chips or pita chips to dip and enjoy. Let us know if you give this salsa a try and how you like it.
Looking for some other tomato based canning recipes? Try the ones below:
Looking to grow your own ingredients for this recipe?