This post may contain affiliate links. When you purchase through links on my site, I may earn a commission at no cost to you. Learn more
This year my family wanted to plant our own pumpkin patch. We decided to make homemade organic pumpkin puree with the pumpkins from our patch. We planted sugar pumpkins for baking and jack-o-lantern pumpkins for carving for Halloween. My kids really enjoyed going outside to check on the pumpkins throughout the growing season. We ended up with 6 pumpkins. Next year I will plant more pumpkin seeds to get additional pumpkins. Pumpkin pie, it is my favorite type of pie this time of year. I usually use a can from the store to make pumpkin pie but this year I get to use my own organic homemade pumpkin puree, I am very excited to start baking.
Safety Notice First: I am going to start out letting you know you cannot can pumpkin in puree form to keep on the shelf. You can only safely can pumpkin for dry storage in chunks. I will be freezing my puree when it is complete. This is the only safe way to preserve pumpkin puree. Here is additional information from the National Center for Home Food Preservation also saying that you can not can pureed pumpkin: Home Preserving Pumpkin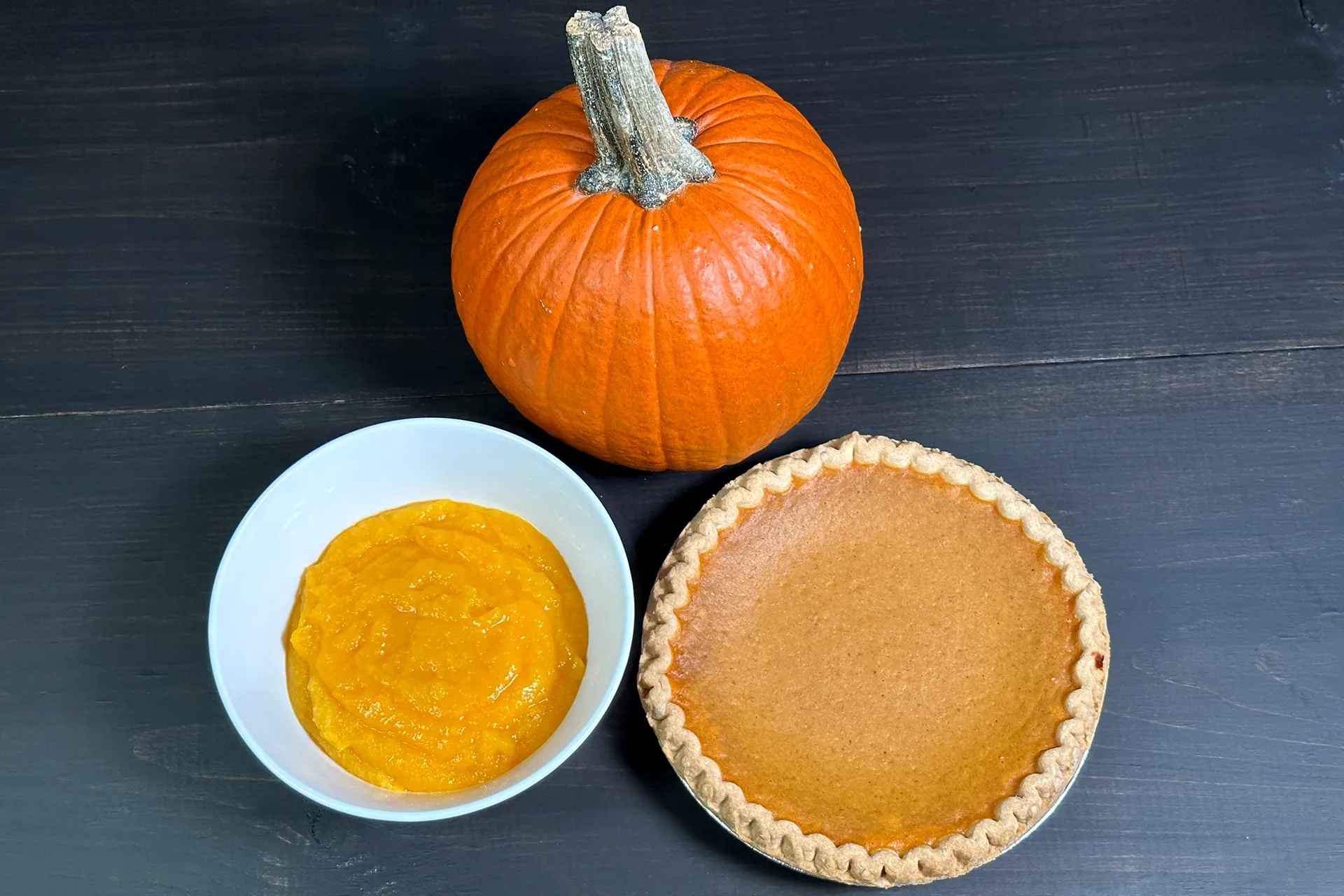 Pumpkin Puree
How to make homemade organic pumpkin puree. Use this simple recipe using sugar pumpkins to make homemade organic pumpkin puree. This recipe is safe for freezing only it can not be canned safely.
Instructions
Wash your pumpkins under cool running water.

Preheat your oven to 400 degrees

Remove the pumpkin's stem. If you can't removed it cut the top part of the pumpkin off with your knife

Cut the pumpkin from top to bottom. Scoop out the seeds and pulp and put in a separate bowl. Cut each half of the pumpkin in half again.

Take the pumpkin pieces and put them cut side down into baking pan. Roast the pumpkin pieces in the oven for 40 minutes or until the flesh of the pumpkin is very soft when pierced with a fork.

Remove pumpkins from pans and put on wire rack. Cool pumpkin completely on wire rack.

Setup your food processor with the s-shaped sabatier metal blade. Scoop the pumpkin flesh out of the pumpkin skin and add to your food processor. Process the pumpkin flesh for about 3 to 5 minutes until smooth, add some water and scrape the sides if needed.

I measure out my pumpkin puree into 12-15 oz portions because that is what is needed to make a pie. I place the 12 – 15 oz portions into freezer safe mason jars ensuring to leave headspace for expansion while in the freezer. I also do not put the mason jars directly into freezer. I refrigerate the mason jars first to ensure the pumpkin is completely cooled before going into the freezer.
Notes
This recipe can only be frozen.  Do not attempt to can pumpkin puree.  There is no safe tested recipe for home canned pumpkin puree. 
Use Pumpkin Puree To Make Pumpkin Pie
You will use your homemade pumpkin puree in baking just like you would use the canned one from the store. I am very excited to make pumpkin pies for Thanksgiving. Pumpkin pie is an essential dessert for our family on Thanksgiving. I also see pumpkin muffins, pumpkin bread, and maybe some pumpkin cheesecake in our future. The color of the homemade fresh pumpkin puree is such a beautiful orange color and reminds me of all the beautiful colors of fall.
Remember those pumpkin seeds you saved in step 4? You can take those and roast them or you can save them to plant for next year. Curious on how to save them, then read our post about saving pumpkin seeds. Let me know what kind of delicious treats you are going to be making with your pumpkin puree. I can't wait to hear what you make so I can give the ideas a try.