This post may contain affiliate links. When you purchase through links on my site, I may earn a commission at no cost to you. Learn more
Canning pumpkin is surprisingly easy to do safely, but can be a little intimidating because it needs to be pressure canned. All low acid foods, including pumpkin must be canned using a tested pressure canning recipe. When processing pumpkin to can you must can it in cubes. That is the only way to safely can pumpkin on its own. Do not puree or mash your pumpkin as that will cause unsafe canning conditions.
Having pumpkin cubes canned in jars makes it really easy to use the pumpkin in pies, breads, soups and stews. If using in pies or breads just open a jar of cubed pumpkin and puree it quickly before using. Preserving your pumpkin this way keeps the great fresh flavor of the pumpkin.
Pressure Canning Pumpkin
Pumpkin can only be pressured canned since it is a low acid food and pressure canners are the only home canning method that can produce high enough temperatures to kill botulism spores.
An average of 16 pounds of pumpkin is needed per canner load of 7 quarts; an average of 10 pounds of pumpkin is needed per canner load of 9 pints. This is about 2¼ pounds of pumpkin per quart. Pumpkins should have a hard rind and have stringless, mature pulp of ideal quality for cooking fresh. Small size pumpkins (sugar or pie varieties) make better products.
Recipe for Pressure Canning Pumpkin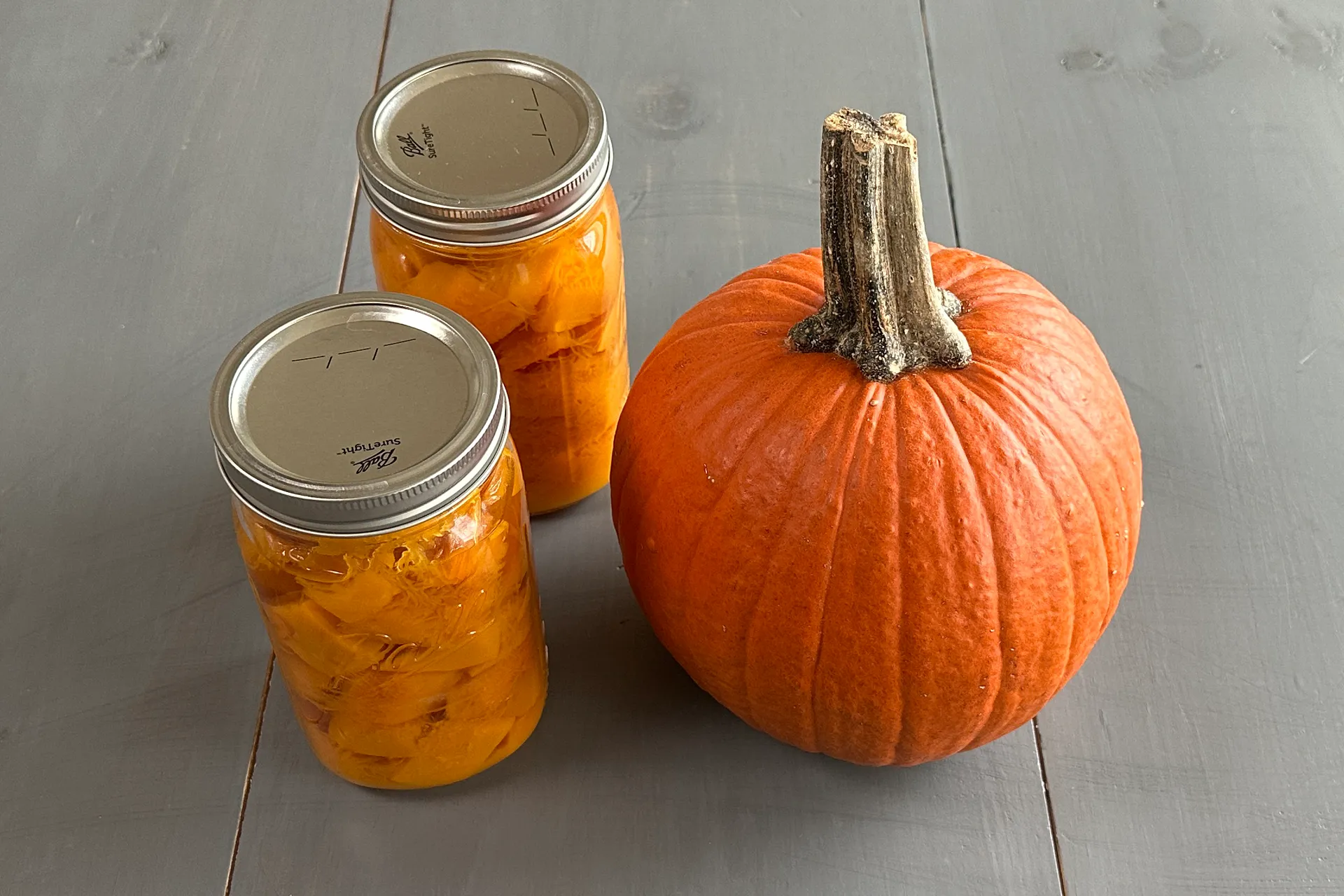 Canning Pumpkin
This is a pressure canning recipe only. Pumpkin can NOT safely be water bath canned. This recipe comes from Ball's Complete Book of Home Preserving pg 393. You will need about 2 and 1/4 lbs of pumpkin for each quart jar. This can be canned in quart size jars or smaller but I prefer quart size for canning pumpkin cubes.
Ingredients
Pumpkin

2 and 1/3 lbs per 1 quart jar

Salt (Optional)

Boiling Water
Instructions
Prepare your Pressure Canner according to Manufacturer instructions.

Clean jars and lids with warm soapy water. Ensure the jars do not have any chips or bubbles in the glass. Heat jars in hot water.

Cut in half and remove the seeds

Cut Pumpkin into 1 inch cubes (Do not mash or puree)

In the stainless steel pot or enameled dutch oven bring enough water to boil to cover pumpkin cubes.

Add Pumpkin cubes to boiling water. Bring water back to a boil over medium-high heat. Boil Pumpkin cubes for 2 minutes (until heated through but not soft)

Drain pumpkin cubes and discard the cooking liquid.

Heat up more boiling water in water kettle or in another large pot.

Pack hot pumpkin cubes into hot jars with a generous 1 inch head space.

Add salt if using. 1/2 tsp per pint jar or 1 tsp per quart jar.

Ladle fresh boiling water into jar (I use a hot water kettle and just pour the boiling water into the jar) to cover pumpkin leaving 1 inch headspace.

Remove air bubbles with a de-bubbler and adjust headspace as needed by adding more boiling water. Wipe rim to ensure good seal is made with the lid. Center lid on jar and screw the band down to finger tip tight.

Place jars into pressure canner using your jar lifter. Repeat steps 11-13 until all pumpkin has been used.

Adjust water level if needed, lock pressure canner lid and bring to a boil over medium-high heat. Vent steam for 10 minutes, then close vent. Continue heating your pressure canner to achieve 10 lbs of pressure (Make sure to adjust for your altitude) and maintain that pressure for the entire cooking time.

Process Pint jars for 55 minutes and quart jars for 90 minutes. Set a timer it is much easier to remember how long you need to pressure can for.

Turn off heat when timer is complete. Let pressure return to zero naturally. Wait 2 minutes after pressure gauge reads 0, then open your vent. Remove your canner lid (making sure to lift away from you so you don't get burned by the steam).

Leave jars in the pressure canner for 10 minutes after you remove the lid. Using your jar lifer carefully move the jars onto a wire rack or kitchen towel to allow to cool. When moving the jars try not to tilt them to the side as this could effect the seal of the jars. Allow your jars to cool for 12-24 hours before handling.

Once cool, remove the canning rings from the jars. Wash your jars off to ensure there is no food residue on the outside of the jar from processing. Label your jar with the name of the recipe and date. This will help you remember what recipe you used to can and the date will allow you to use the oldest canned goods first.
Nutrition
Serving:
1
Quart Size Jar
|
Calories:
155.97
kcal
|
Carbohydrates:
38.92
g
|
Protein:
5.99
g
|
Fat:
0.6
g
|
Saturated Fat:
0.3
g
|
Monounsaturated Fat:
0.06
g
|
Sodium:
5.99
mg
|
Potassium:
2035.71
mg
|
Fiber:
2.99
g
|
Sugar:
16.52
g
|
Vitamin C:
53.89
mg
|
Calcium:
125.73
mg
|
Iron:
4.79
mg
Preserving Canned Pumpkin
Pressure canning is a great way to preserve pumpkin cubes and other low-acid foods. By following this tried-and-true recipe and properly preparing and processing your jars, you can enjoy the taste of pumpkin anytime. Whether you use your homemade pumpkin cubes in pies, breads, or other recipes, the end result will be a tasty and nutritious treat that you can feel good about sharing with loved ones. If you're interested in learning more about pressure canning and other preserving methods, be sure to check out my other recipes and consider subscribing to my mailing list for updates and even more canning inspiration.
For a recipe and step by step instructions for making and freezing pumpkin puree I have another article that would help with that: Freezing Pumpkin Puree
Gather your ingredients and give it a try!
Additional Pressure Canning Recipes to give a try: