This post may contain affiliate links. When you purchase through links on my site, I may earn a commission at no cost to you. Learn more
Canning cranberry jelly is a must in our house every year. My husband refuses to eat cranberry jelly unless it has taken on the shape of the mason jar or can it came in. He wants to be able to slice it so he can put it on sandwiches. This recipe checks two boxes for my husband: it is delicious and it comes out of a wide mouth mason jar in a perfect cylinder so he can slice it.
Canning Cranberry Jelly Recipe
This cranberry jelly recipe comes from the Ball Complete Book of Home Preserving on page 179. Cranberries contain enough pectin in them to make a great texture jelly without needing to add additional pectin. These 3 simple ingredients set into a delicious jelly that we serve at all Holiday meals.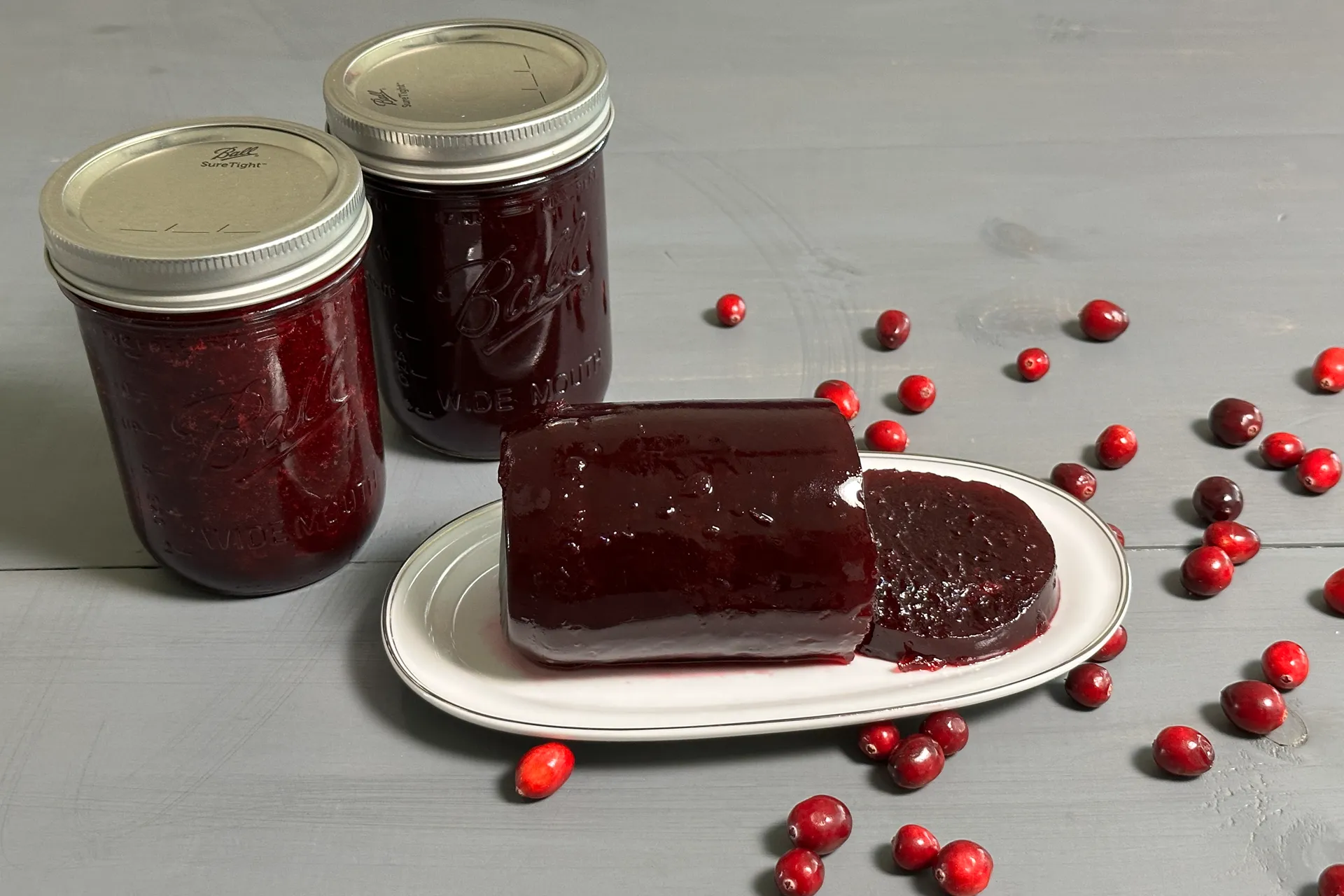 Canning Cranberry Jelly
Step by step guide to make and water bath can Cranberry Jelly. This is a great replacement for the cranberry jelly in a can from the store. This recipe comes from the Ball Complete Book of Home Preserving on page 179.
Ingredients
4 and 1/4

cups

Cranberries

Fresh or Frozen (partially thawed)

1 and 3/4

cups

Water

2

cups

Granulated Sugar
Instructions
Clean jars and lids with warm soapy water. Ensure the jars do not have any chips or bubbles in the glass.

Put your water bath canner on your stove. Add your canning rack into your water bath canner. Add your pint jars to the water bath canner. They will warm as you heat up the water. Add enough water to cover jars with at least 2-3 inches of water. Bring to a low boil and allow the jars to boil for 10 minutes.

In a large stainless steel pot or enameled dutch oven, combine cranberries and water. Bring to a boil over medium-high heat. Reduce heat and boil gently, stirring occasionally, until the cranberry skins burst (around 5 minutes). Remove from heat and let cool for 5 minutes.

Working in batches, transfer cranberry mixture to a food processor fitted with a metal blade or to a food mill. Puree the cranberry mixture until smooth.

Return cranberry puree to pot or enameled dutch oven. Add sugar and bring to a boil over medium heat, stirring until sugar dissolves. Increase to high heat and boil hard until mixture begins to sheet from a metal spoon. (Dip a cold metal spoon into the boiling cranberry mixture. Lift the spoon and hold it horizontally and edge down so that the cranberry mixture runs off the edge. As the cranberry mixture cooks, the drops will become heavier and will drop off the spoon separately but two at a time. When the two drops join together and "sheet" off the spoon, the gel stage has been reached).

Skim off any foam that has formed during boiling.

Remove your jars from the water bath canner one at a time using your jar lifter. Dump water out of jar into your water bath canner to ensure there is still 2-3 inches of water above your jars.

Use funnel and ladle to add hot cranberry jelly into hot jars, leaving 1/4 inch headspace. Remove air bubbles with a de-bubbler and adjust headspace as needed by adding more cranberry jelly.

Wipe rim to ensure good seal is made with the lid. Center lid on jar and screw the band down to finger tip tight.

Place jar in canner using your jar lifter. Repeat steps 7-9 until all cranberry jelly is used. Make sure the jars are completely covered by 2-3 inches of water.

If your water is not boiling start your processing time when the water is boiling. Process pint jars for 15 minutes (make sure to adjust for your altitude). Set a timer, it makes it much easier to make sure you process for the correct time. When your timer goes off turn off the heat and remove the canner lid. Leave the jars in the water for 5 minutes.

Lift your canning rack out of the water. Using your jar lifer carefully move the jars onto a wire rack or kitchen towel to allow to cool. When moving the jars try not to tilt them to the side as this could effect the seal of the jars. Allow your jars to cool for 12-24 hours before handling.

Once cool, remove the canning rings from the jars. Wash your jars off to ensure there is no food residue on the outside of the jar from processing. Label your jar with the name of the recipe and date. This will help you remember what recipe you used to can and the date will allow you to use the oldest canned goods first.
Are you like my husband and will only eat cranberry jelly shaped like a cylinder? Then this is the recipe for you. It really is the only way he wants his cranberry jelly. If you prefer a more traditional cranberry sauce I recommend utilizing this recipe: Canning Cranberry Sauce. They both have very similar ingredients but this one sets up more like a jelly then a sauce.
I hope you enjoy your cranberry jelly.