This post may contain affiliate links. When you purchase through links on my site, I may earn a commission at no cost to you. Learn more
One of my families favorite things to do in the fall is go apple picking. We love to pick lots of apples which means I need to process them in some way to make them last a little longer then just fresh eating. One of my go to ways of preserving apples is water bath canning applesauce.
My kids can demolish a jar of homemade applesauce in one sitting. So we need plenty of it to make it last until the next apple picking season. We pick at a local apple orchard and this year we decided to plant some apple trees of our own since we enjoy the apple harvest so much. We ended up planting 8 apple trees of various species to get a wide variety of apples to use for preserving. I can't wait until we can grow our own apples to be used in this simple recipe.
Ball recipe for Applesauce
My ball canning books are my go to resource for most of my canning recipes. For this applesauce recipe I used The All New Ball Book of Canning and Preserving. The recipe can be found on page 139 and is titled Applesauce. My family likes the taste of the applesauce when I use this recipe. This is a pretty easy recipe to make.
We prefer chunky applesauce so that is how I made this recipe. You could also puree until you have a smooth applesauce if that is your preference. According to this recipe it will make about 4 pint jars but I have found that it was making about 5 pint jars for me, even though I measured the exact weight of the apples. After making the recipe, don't throw away your apple scraps they can be used to make other delicious items for your family.
My Go-To Equipment for this Recipe
I'm always looking for ways to make my canning process more efficient. Aside from my Water Bath Canning supplies, I found these tools super helpful when canning this recipe:
You can find the whole list (and links) of tools I used when canning this recipe. While I prefer the above items, I included some alternatives as well.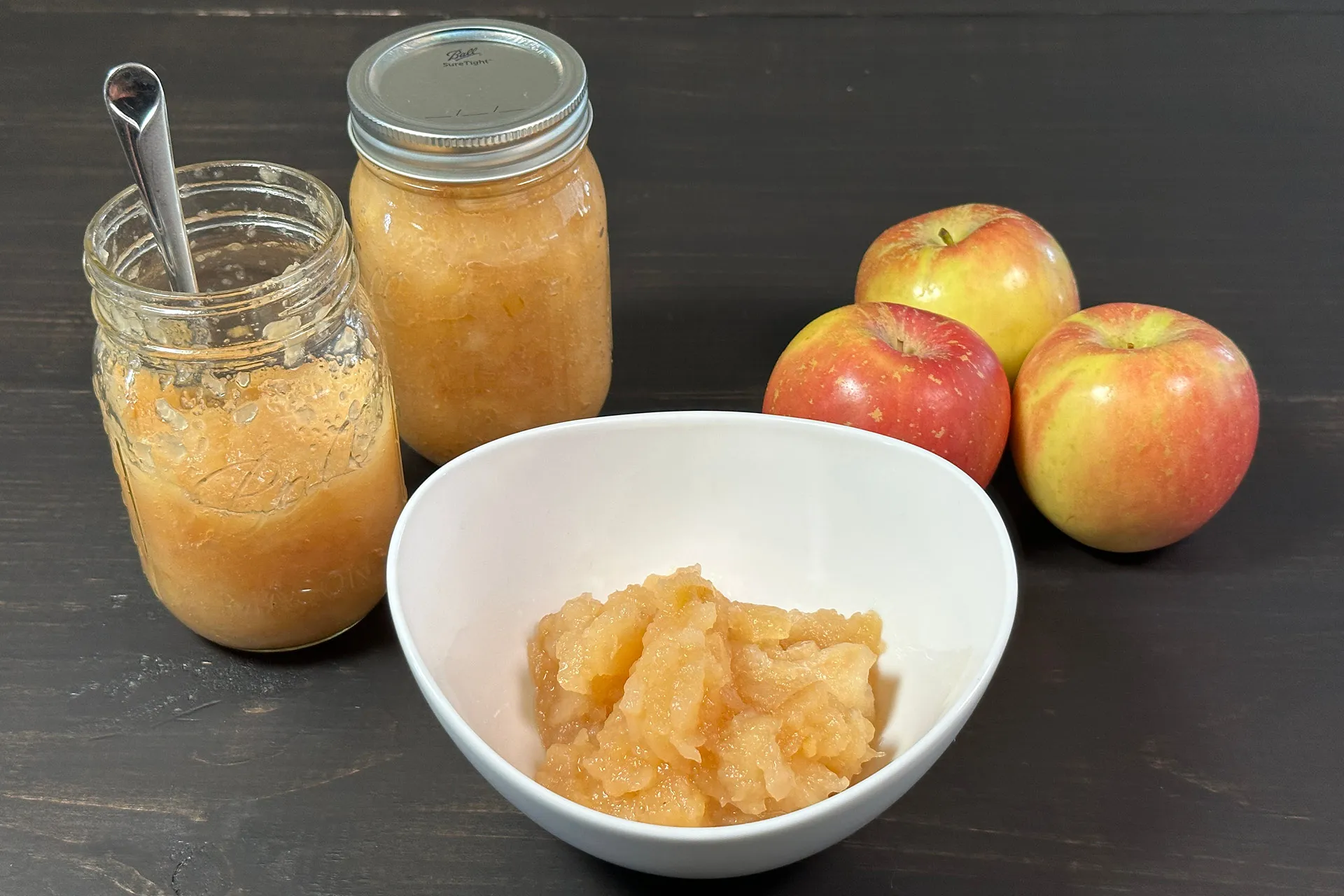 Water Bath Canning Applesauce
Instructions
Clean jars and lids with warm soapy water. Ensure the jars do not have any chips or bubbles in the glass.

Wash your apples under cold water. Then peel, core and quarter your apples. For this part I used my handy Apple Peeler, Slicer, Corer and it makes the entire process of peeling, coring, and slicing your apples really quick and efficient. You can also use a regular vegetable peeler an apple corer and a knife and cutting board if that is what you have on hand.

Put your water bath canner on your stove. Add your canning rack into your water bath canner. Add your pint jars to the water bath canner. They will warm as you heat up the water. Add enough water to cover jars with at least 2-3 inches of water. Bring to a boil and allow the jars to boil for 10 minutes.

Combine your apples, sugar, water and lemon juice in your stainless steel pot or enameled dutch oven. Cook for 25 minutes over low-medium heat, stirring occasionally, until apples are very tender.

Decide if you would like chunky applesauce or smooth applesauce. If you would like chunky applesauce mash apples with a potato masher to desired consistency. If you would like a smooth applesauce cool your apples slightly and process in batches in your food processor until smooth. Return smooth applesauce to your pot or dutch over and bring applesauce to a boil before filling jars.

Remove your jars from the water bath canner one at a time using your jar lifter. Dump water out of jar into your water bath canner. Ladle hot applesauce into hot jars, leaving 1/2 inch headspace (use your headspace measurer to verify the correct amount).

Using your de-bubbler make sure to remove all air bubbles. Applesauce has a thinker consistency so air bubbles maybe hiding so ensure you do this a few times to remove as many air bubbles as possible. Adjust headspace, if necessary, by adding additional hot applesauce.

Wipe the rim of the jar to ensure good seal is made with the lid. Center the lid on the jar and add the band to fingertip tight. Put the jar back into the water bath canner using your jar lifter.

Repeat steps 6-8 for the remaining applesauce, until the jars are filled.

Lower the water bath canner rack into the boiling water. Ensure your jars are covered by at least 2 inches of water. If your water is not boiling start your processing time when the water is boiling. Process pint jars for 20 minutes. Make sure to adjust your time for altitude. Set a timer, it makes it much easier to make sure you process for the correct time. When your timer goes off turn off the heat and remove the canner lid. Leave the jars in the water for 5 minutes.

Lift your canning rack out of the water. Using your jar lifer carefully move your jars onto a wire rack or kitchen towel to allow to cool. When moving your jars try not to tilt them to the side as this could effect the seal of your jars. Allow your jars to cool for 12-24 hours before handling.

Once cool, remove the canning rings from the jars. Wash your jars off to ensure there is no food residue on the outside of the jar from processing. Label your jar with the name of the recipe and date. This will help you remember what recipe you used to can and the date will allow you to use the oldest canned goods first.
Delicious Applesauce
I hope you enjoy this applesauce as much as my family does. This is a staple in our pantry and I make this every year. This recipe is made with simple and delicious ingredients, which I love. I don't need to worry about my kids wanting to eat this all the time! We love to have applesauce with our Thanksgiving dinner or if we are cooking up a delicious meal with pork chops. I hope you find some time in your busy schedule to make this easy applesauce recipe for your family. I love it when my whole house smells like apples.
Additional Apple Canning Recipes: