This post may contain affiliate links. When you purchase through links on my site, I may earn a commission at no cost to you. Learn more
Canning apple pie filling is a simple and delicious way to have all the ingredients ready to make a pie. There is nothing better then being able to go into my pantry, grab a jar of Apple Pie Filling and whip up a quick homemade apple pie. This apple pie filling is seriously delicious and 1 quart mason jar is the perfect size to make a perfect apple pie.
Every year my family goes apple picking. We make sure to pick enough apples to make all the apple products we utilize during the year: Apple Pie Filling, Apple Sauce, Apple Butter, Apple Jelly. There are so many delicious items to can or to make fresh after picking your apples from an orchard.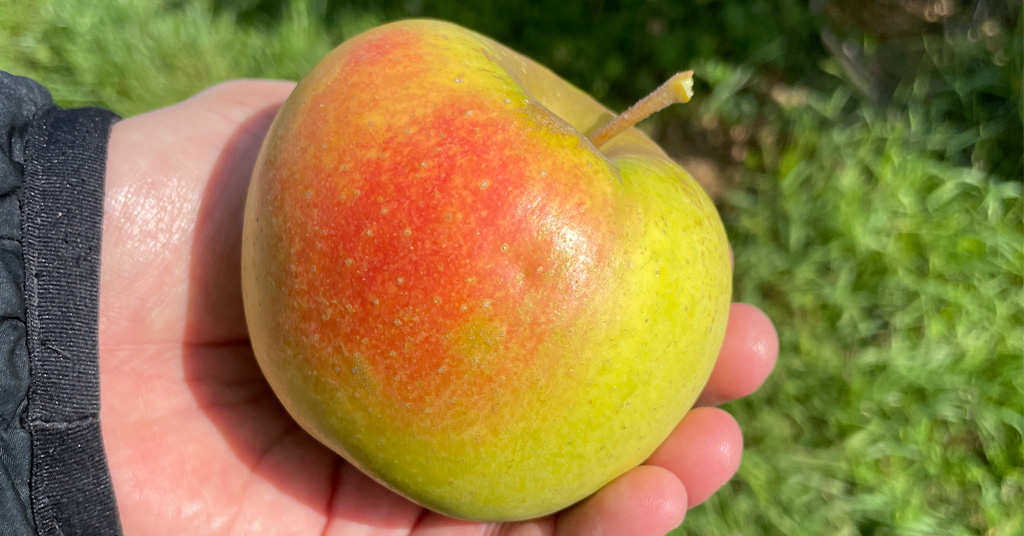 Canning apple pie filling is one of my favorite ways to use fresh apples. This recipe can be found in The Complete Guide to Home Canning from the United States Department of Agriculture on page 2-26. I love to swap the sugar in this recipe to brown sugar and make caramel apple pie filling. The recipe is safe using either type of sugar so pick the one your family likes the taste of better. We personally love it with brown sugar.
This recipe should yield you enough quart jars of apple pie filling to give you 7 pies. Usually this is enough apple pie filling to get my family through an entire year of apple pies or apple crumbles.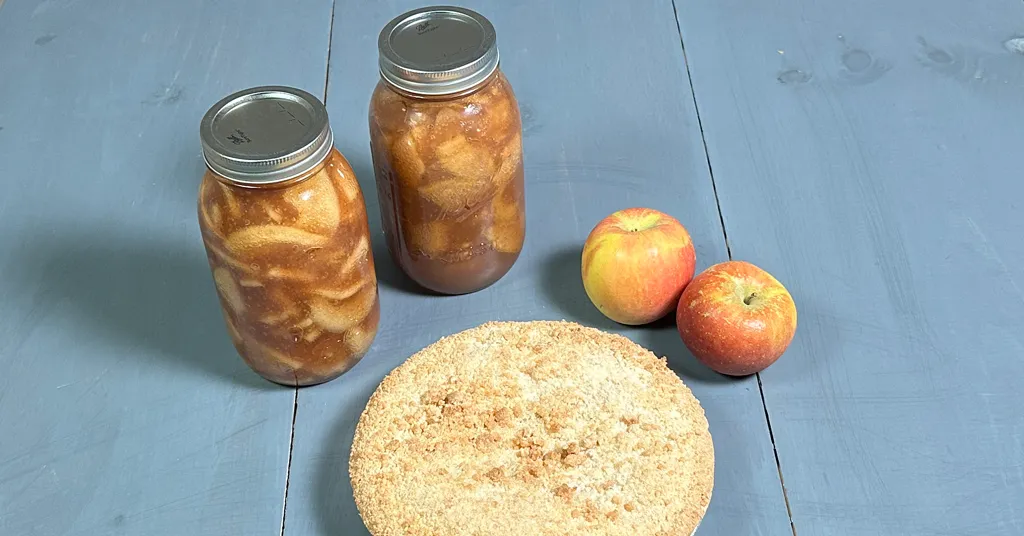 Canning Apple Pie Filling
Instructions
Clean jars and lids with warm soapy water. Ensure the jars do not have any chips or bubbles in the glass.

Wash, Peel, and core Apples. I use my apple slicer, peeler, corer to do this job all at once. You could also use a regular vegetable peeler and an apple corer then slice with a knife.

Slice the Apples into 1/2 wide slices. As you are slicing the apples place them into a water container containing the Ball Fruit Fresh Produce Protector. This will keep your apples from browning as you are slicing. I use a large clear food safe storage container with the water in it. Mine is labeled with quarts on the side so I know when I have gotten to the 6 quarts of sliced apples.

Blanch you apple slices: Place sliced apples (in batches) in boiling water. Boil each batch of apple slices for 1 minute after the water returns to a boil. Drain the apples from the water (I use a slotted spoon to remove the apples) but keep the hot fruit in a covered bowl or pot.

Put your water bath canner on your stove. Add your canning rack into your water bath canner. Add your quart jars to the water bath canner. They will warm as you heat up the water. Add enough water to cover jars with at least 2-3 inches of water. Bring to a low boil and allow the jars to boil for 10 minutes.

Combine the sugar, clear jel, cinnamon, water, and apple juice in a large pot. Add nutmeg if using. Stir and cook on medium high heat until the mixture starts to thicken and bubble.

Add lemon juice (If the apples you are using lack tartness, use an additional 1/4 cup of lemon juice for the 6 quarts of sliced apples). Bring mixture to a boil and boil for 1 minute stirring constantly. Fold your drained hot apple slices into the mixture so evenly distributed.

Remove your jars from the water bath canner one at a time using your jar lifter. Dump water out of jar into your water bath canner to ensure there is still 2-3 inches of water above your jars.

Ladle hot apple pie filling into hot jars, leaving 1 inch of headspace.

Use the de-bubbler to remove air bubbles from canning jars. Remeasure headspace and adjust as needed.

Wipe rim to ensure good seal is made with the lid. Center lid on jar and screw the band down to finger tip tight.

Place jar in canner using your jar lifter. Repeat steps 8-11 until all apple pie filling is used.

Ensure the jars in your water bath canner are covered completely by 2-3 inches of water.

If your water is not boiling start your processing time when the water is boiling. Process quart jars for 25 minutes (make sure to adjust to your altitude). Set a timer, it makes it much easier to make sure you process for the correct time. When your timer goes off turn off the heat and remove the canner lid. Leave the jars in the water for 5 minutes.

Using your jar lifer carefully move the jars onto a wire rack or kitchen towel to allow to cool. When moving the jars try not to tilt them to the side as this could effect the seal of the jars. Allow your jars to cool for 12-24 hours before handling.

Once cool, remove the canning rings from the jars. Wash your jars off to ensure there is no food residue on the outside of the jar from processing. Label your jar with the name of the recipe and date. This will help you remember what recipe you used to can and the date will allow you to use the oldest canned goods first.
I really hope you give this Canning Apple Pie Filling recipe a try. It is such an great way to have a quick desert sitting in your pantry.
Have more apples you would like to can? Try the recipes below: